Grøttland joins Varig
April 6, 2022
The Nordic insurance giant Gjensidige's Head of Content Marketing, Jeppe Grøttland, joins Varig to be the Norwegian growth company's new director of brand, communications, and marketing.
With sustainability technology and the proptech industry in rapid growth, Varig rigs for international expansion. Starting on April 1st Grøttland set out to build and lead the company's marketing organization.
"This was too good an opportunity to turn down. I believe Varig has the potential to become the "next Norwegian tech-fairytale" and I wanted to be part of that exciting journey. With the backing of active and solid investors, such as Norselab, the scene is set for us to develop and spread a highly impactful technology that addresses one of, if not the key challenge of our time," Grøttland says.
EU-taxonomy prompts urgency
Varig targets an industry accounting for nearly 40 per cent of global carbon emissions. The company's software compiles and calculates commercial buildings' embodied and operational emissions. This way property owners, managers and tenants gets a complete overview of their environmental performance.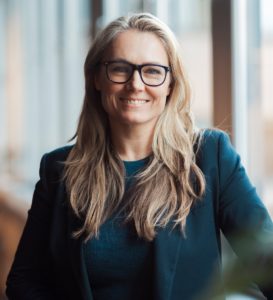 "Our software facilitates the systematic and strategic work in improving buildings' environmental footprint. The software makes the sustainability data accessible and actionable for those who own, manages or rents commercial real estate. In addition, we offer a time-saving automated reporting feature," Varig CEO Renate Straume says.
The gradual roll-out of the EU-taxonomy, which began on January 1st, is setting the standards for how companies must act and report on sustainability.
"Many companies need to change their ways. Our technology is closely linked to the developments within «taxonomy-compliance». Our aim is to make both the financial and regulatory reporting a lot easier for our industry," Straume says.
Media, agency and a large corporation – now scale-up
Grøttland leaves Gjensidige after nearly seven years with the company. From 2017 he has been responsible for building and leading the insurance giant Gjensidge's successful media plattform Godt forberedt.
"It's wistful to leave both the people and riveting development around the Godt forberedt-universe. I look forward to following their editorial work from the outside. And I can't wait to see how the many talents there will take it to new highs," Grøttland says.
Before he was given the Gjensidige Group responsibility for content marketing, Grøttland held a position as senior project manager. This comprised leading several of Gjensidige's larger campaigns, such as Keep Focus, Customer Dividend, and the company's 200-year celebration in 2016.
He has previously worked for the PR-agency Burson-Marsteller in Oslo and London (2010-2015), and Radio 1 (2005-2009). Grøttland holds a master's degree in journalism from RMIT and a bachelor's degree in international marketing from ESADE Barcelona and BI Norwegian Business School.
Explore our software