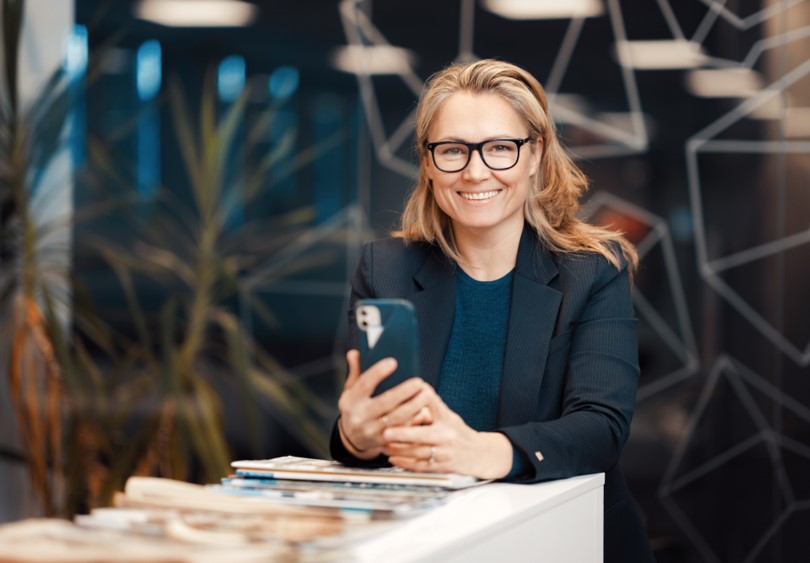 More sustainable commercial buildings
April 7, 2021
ESG and sustainability are two of the hottest buzz-words, regardless of industry. VARIG is a two year old company offering a software facilitating more sustainable commercial buildings.
The drivers are easy to spot.
"Buildings – cradle to cradle – accounts for approximately 40 per cent of the global emissions, lays claim to approximately 40 per cent of the planets resources and consumes approximately 40 per cent of the world's energy," VARIG-founder and CEO Renate Straume says.
With a background from the building and construction industry, she saw the need for new technology to speed up the indsutry's green transistion. In 2019, she found help in a solid impact-investor helping her realize her ambitions of leveraging the megatrends of digitization and sustainability into something that would provide needed change for the industry.
"Norselab has been key to the development of VARIG," Straume says. Norselab is one of Norway's leading impact investment funds, responsible for co-founding and building a series of technology companies aiming to make the world a better place.
"We've also had help from industry-giant Entra. They've given us access to their tenants and contributed in the problem description our technology would help solve for the industry. How VARIG could contribute to more sustainable commercial buildings ," Straume adds.
Highly valued
"What's hard, yet fun, with sustainability is that you need to combine a lot of different things to get the complete overview. And one thing technology does efficiently, is handling vast amounts of data. It makes it traceable, measurable, and repeatable. This is very important in an industry that today rely to heavily on one person to stay on top of sustainability developments and communicate one's performance throughout the value-chain. Technology can remove this uncertainty," Straume says.
Thus far, Varig has signed five clients with a 100.000 square meters between them. The aspirations to grow fast are there, though. At the end of 2021 Straume expects Varig to grow from seven to twelve employees and reach an annual recurring revenue (ARR) of NOK 5–6 million.
The labeling combining sustainability and technology also help drive the valuation of the company. The company recently raised NOK 15 million from existing share-holders, industry stakeholders and Norselab's new venture fund. In total Varig has taken in NOK 20 million from investors.
The last registered company valuation was NOK 60 million.
"The greatest external stakeholder is Norselab, with its approx. 35 per cent. We've also received NOK 2,5 million in loans from Innovation Norway. We've raised capital focusing on Norway. In 2022, however, we will venture abroad, which might spark the night for additional financing.
CO2-equivalent as climate currency
VARIG has chosen to focus it efforts on existing buildings.
"We want to uncover the sustainability potential in existing buildings first. Just a small improvement in existing buildings will amount to a huge improvement for the industry overall. Our solution does function on all buildings, though – not only the new or the smart. It has been important for us to develop something that includes many different types of buildings. We aim for as much sustainable commercial real estate as possible," Straume says.
Varig automatically collects operational data, such as electricity, remote heating, waste, source separation and water.
"By converting the data to CO2-equivalents, it's easier to compare emissions with accuracy," Straume explains.
"An owner might for instance learn that the CO2-footprint from waste and electricity are equal. Then it might be beneficial to investigate whether the waste emission could be reduced. Such conditions can be documented and help identify the areas where the owner could derive the greatest effect fastest by taking sustainability action."
– How do you capture data?
"We collect data from vendors/suppliers automatically. If that, for any reason, can't be done, we've put file-scanners in place to have other documentation and reports inserted into the system. Our aim is to keep the need for 'punching data manually' to a minimum.
– Will you also offer suggestions for improvements?
"Now, it's all about documenting performance accurately for efficient comparissons.
– Compare buildings or places?
"Yes, but also compare the CO2-footprint from for instance electricity to remote heating or waste. CO2 has become an interesting climate currency. It think this will become clearer in the years to come," Straume states.
Green check-list for sustainable commercial buildings
Her eyes are set on the EU, and the developments in Brussels.
"When the EU-taxonomy sets formalized demands, sustainability will be an interesting indicator one needs to take into account in many situations. For instance, when one is doing due diligence or determining values in property transactions. There's a lot of exciting developments coming from Brussels, but they are setting the bar quite high.
– The taxonomy is setting emissions targets?
"Yes, but that's what makes it so hard. They haven't landed those yet."
– And, it's not only for properties?
"No. It is mostly driven from the financial side. Wherein many state that they're investing in green. Which is positive.
– All listed companies will now start reporting on sustainability?
"Yes, and the reports are set to change quite a bit next year. Then the EU-demands and definitions on green will have been finalized. But this might not only be limited to listen companies. The commercial real estate industry already have several international investors requesting documentation on sustainability," Straume concludes.
This article was authored and first published by Kapital in Norwegian on February 18th 2021
Book a free demo